If you are hardcore about staying away from ANY kind of Episode VII spoilers, then dont read this post! You've been warned!
Are you familiar with this classic xkcd comic...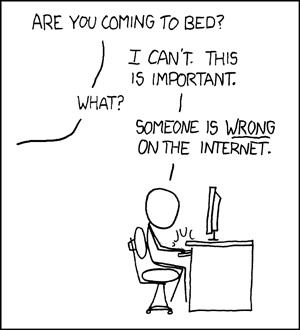 Well, that's the kind of day I've had! See, I have a Google Alert set up for "Star Wars". Everyday I receive an email with all the top stories about Star Wars. Today, some of the news stories where about Episode VII filming locations. Here are two of the head lines...
'Star Wars Episode VII' Will First Shoot in Morocco
--- /Film
Report: Star Wars Episode VII May Return to Tatooine
--- The Escapist
These headlines grabbed my eyes. I think many fans have assumed that Tatooine would be in the sequels, but it was cool to get word that this idea may be one step closer to reality.
From the headlines, I was kinda sad to see Morocco listed, and not Tunisia, but it's understandable. From what I've read in the news, after the Arab Spring, Tunisia still isn't as secure as it used to be for westerners. I've also read that Tunisia's film industry has been hit hard from the political shakeup, as less and less foreign film makers have set up shop there over the last few years. Anyway, all is well and good, then I click on the links...
I have enjoyed /Film and The Escapist before, but I was upset at their shoddy research. In each of these articles, they both state the Star Wars would be returning to Morocco. Returning.
Returning.
/Film says "the reason for the return to Morocco could be to use standing sets that were left over from previous
Star Wars
shoots."
The Escapists says "Once upon a time in Morocco there was a budding young film director, George Lucas by name, who built a bunch of sets out in the desert and called it Tatooine."
Okay, can you see why I was Hulking out with Nerd Rage? Star Wars has never filmed in Morocco before! Thus, they cant be "returning". Arrrggghhh!!! I've read every one of the "Making Of..." books, and never have a found a chapter about Morocco. (other then locations being scouted there, but never filmed there.)
Don't just take my word for it, research it for yourself! Here's the
Wikipedia page
of Star Wars filming locations. See what's missing? MOROCCO!
Anyway, I left comments on these two news articles. I never leave comments on news articles. I'm sure there are plenty of other sites out there who just cut and pasted these stories into their own, but I'm too tired to track them all down right now. My Nerd Rage is back under control... for now.